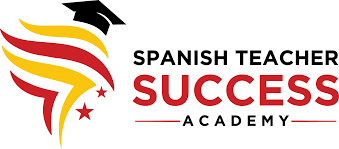 Graduate-Level Semester Credit
Spanish Teacher Success Academy - Graduate-Level Credit for Educators and Teachers
University of the Pacific — Benerd College is pleased to offer graduate-level semester units of credit for completing coursework with Spanish Teacher Success Academy. Dedicated in assisting educators and teachers across the nation, our professional development course option is designed to be practical, meaningful, and affordable. At only $79 per semester credit, this opportunity is available to all current (ongoing) or previous Spanish Teacher Success Academy participants.
Pursue up to 6 hours of graduate-level semester credits / units upon completing The Spanish Teacher Success Academy. Completing and learn from over 25 world-class experts who will share with you the best strategies for teaching Spanish. Benefits include:
Manage a mixed Heritage Speaker / Traditional student classroom
Move away from teaching grammar
Grow the sense of community in your classroom
Transition to Comprehensible Input teaching with a textbook
Project-based learning (PBL)
And much, much more!
Tina Hargaden, Meredith White, Adrienne Brandenberg, Laura Sexton, Amy Lenord, Jeremy Jordan… the list of 25 speakers reads like a roll call of A-Lister Spanish teachers and educators! There's no other place you can see this lineup of speakers. And there's no one else who could amass this level of expertise and convince them to share their best strategies and secrets with you. No theory, no outdated methods, no guesswork — just cold, hard strategies that WORK.
Graduate-level credit will be awarded upon completion of the following items:
Complete The Spanish Teacher Success Academy.

(Spanish Teacher Success Academy fees are paid separately from the tuition university credit fee.)

Register for a UOP Course. (See below.)
Complete coursework requirements based on what you learned.
Upon successful completion of Spanish Teacher Success Academy, you will invest time reflecting on provided materials to apply the strategies and ideas learned.
Spanish Teacher Success Academy coursework can be tailored specifically to your goals and educational setting. Although suggestions are provided on what type of coursework (learning activities and projects) you may complete, the actual experiences, work you develop and implement, and content you encounter are driven by you. Now is the time for you to select a topic of interest, possibly an area of concern, one that needs improvement, or perhaps a new approach that you have not been able to study or implement.
Suggested activities and projects to help you earn credit:
Development or revision of classroom curriculum, rubrics, lesson plans, educational games, learning activities, PowerPoint presentations, video presentations, worksheets, educational websites, classroom visuals, classroom assignments and projects, bulletin boards, learning centers, anchor charts, assessments, teacher-created books, Spanish Teacher Success Academy activities, self-evaluation/reflection reports, storytelling activities, units of study, etc.
Designed for busy teachers like you, you will get up to 6 months to complete your coursework requirements, and extensions are always granted if needed. The projects you choose to develop will ultimately demonstrate the application of time you invest in Express Fluency experiences, such as research, videos, readings, etc. An additional expectation is to complete a time log that documents the time spent for this course. 
Overview of Requirements
1. Define your course objective(s): When registering you will be required to provide a short description of the prospective activities and/or projects that you plan to create and /or implement. You may always modify, change, adapt or incorporate new ideas throughout the entire course duration.
2. Develop a self-created time log: Create a log to document the effort and time that you dedicate to the process of completing your coursework requirements. You can also document hours for activities and projects that you have created previously by back tracking the date in your log. Your log, however, must be specific and include dates, times, accomplishments and proof. For each graduate-level credit, you will document 15 hours of academic involvement. 
Whether you spend time brainstorming, researching, reading, typing notes throughout the online conference, writing, watching educational videos and films for ideas, constructing visuals, putting together new curriculum & rubrics, you are able to document all the professional time you have invested amplifying and enriching your professional needs with Spanish Teacher Success Academy.
3. Provide proof of completed objectives: When all your goals are finally met, you will submit proof of completed objectives (activities & projects) and your self-created time log.
Credit Requirements
1 credit = 15 hours
2 credits = 30 hours
3 credits = 45 hours
4 credits = 60 hours
5 credits = 75 hours
6 credits = 90 hours
An Official Transcript with your final course grade(s) is available from Pacific upon successful completion of coursework. The course ending date that will appear on your transcript will reflect the date your completed coursework was reviewed and graded. Within 3-6 weeks of submitting your coursework requirements, you will be mailed an unofficial transcript with your official course grades (at no charge) to your mailing address.
Completed courses are letter graded and will appear on an Official Transcript from University of the Pacific, Benerd College. 
About the Credits & Pacific
The credits offered are post-baccalaureate, graded, graduate-level semester credits/units, provided directly through the University of the Pacific, Benerd College. They are specifically designed to meet the needs of educators for salary advancement and re-certification.  The credits are acceptable where local districts approve and applicable to state licensing where authorized. We always encourage that you check with your employer for acceptability of these credits. Course participants are responsible to determine acceptability of these credits for their intended use. Each graduate-level semester credit/unit is equivalent to 15 hours of academic involvement.
University of the Pacific, established in 1851, is California's oldest private chartered university and is fully accredited by the Western Association of Schools and Colleges (WASC).


The course below may be attempted for 1- 6 graduate-level credits and enrollment is open year round.
| University-Approved Course | Course Number | Credits | Tuition Fee | Enrollment Date |
| --- | --- | --- | --- | --- |
| Creating Innovative Teaching Ideas for Teaching Spanish | EDUP 9143 | 1 - 6 | $79 / per credit | Year Round |
Upon registering for your selected course(s), you will have up to 6 months to submit your coursework requirements, and extensions are always granted upon request. Coursework requirements will be emailed to you upon registering. The true course ending date that will appear on your Official Transcript will reflect the date in which your coursework was received and graded.
Office Hours:

8:00 am - 12:00 pm, Pacific Time

(Tuesday, Wednesday, Thursday)
Frequently Asked Questions